Events
Soul Nectar Show (www.soulnectar.show) is a new online interview forum whose mission is to inspire people to take the journey to living from essence. Every week you'll receive to your email a link to an inspirational interview with a person who has taken the journey to live their passions…and succeeded!

Register for Soul Nectar Show!
---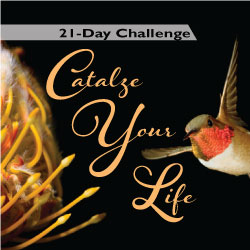 21-Day Challenge to Catalyze Your Life!
Do you have a big dream for 2017? Would you like to get started making it happen? I'm so excited to offer this FREE 21 Day Challenge to Catalyze Your Life! For 21 days you'll receive a daily email with a perspective shift, a tip for moving stuff out of the way, or a tool for bringing your big dream to life. There's even a private Facebook group for sharing your experience!
Register for 21-Day Challenge to Catalyze Your Life
---
Drum Meditation Journey Circle
Date/Time: Friday June 30, 7:00pm to 9pm
Location: Casa de Hummingbird, Cedar Park Texas (location disclosed to registrants)
The rhythmic heartbeat of the drum mimics the heartbeat of our mothers that we heard in the womb, and when we get into this space of drumming our minds relax into alpha and theta states, promoting lucid dreaming.
Drum journey meditations allow us to enter the void, quiet our minds, and access wisdom from our higher selves and spirit guides. Wisdom comes in many forms for each person. Some people see visuals similar to the dreams you experience when asleep. Others hear messages or have profound knowings, or simply enter a peaceful trance-like state that is revitalizing and relaxing (at the same time…paradoxes!).
This monthly drum journey meditation will occur on a Friday night up in Cedar Park at the home of Kerri Hummingbird. Address to be disclosed to participants.
REGISTER ($15): http://tinyurl.com/zjqzm33
 From We To Me: Emerging Self After Divorce online workshops
The end of a significant long-term relationship also marks the beginning of a new phase of your life. This workshop series introduces ways of re-framing your current situation to help you make sense of what is happening in your life, begin the process of detaching and letting go, and step forward into a new life with new self-supporting agreements. You will learn powerful tools for gaining perspective about your divorce and the new life unfolding for you.

WATCH the FREE 30-Minute Workshop (RECORDED)
The From We To Me series of online workshop include these topics (Watch Recordings):
Each workshop is $10. You do not need to be present to tune into the workshops; you can watch the recorded workshops at your convenience.